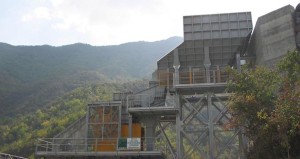 CHIODINI IMPIANTI srl, design and realize single Equipment  and complete Plants for: crushing, screening, washing, transport and storage of Inert, (fixed – semi fixed – mobile ) which satisfy any specific exigency of Clients.
As a completion of the entire production system, CHIODINI IMPIANTI srl, design, realize and supply machines and complete Plants for clearness of water's and dehydration of muds.
The range of productsis competed by the production of fixed and semifixed Plants for the recycle of waste inert from fabricates demolition's.
From over twenty years, CHIODINI produced the ECOBETON System for the recycle of water's and muds coming from washing of concrete mixer trucks and / or from concrete prefabrication.
Innovated and exclusive is the model : ECOBETON MOBILCOMPACT which do not require expensive works in concrete and particularly is easy to transport.
In addition to the supply of all technical and commercial services, CHIODINI with the  cooperation of specializer Techniciansalso provide for the installation and commissioning of the supplied plants and machines, a very good service for spare parts and for occasional and / or programmed maintenance at site.